I'm amazed at how many women want plastic surgery. Sure my nose is not to my liking, but I trust its that way for a reason. Yes I have a Pillsbury dough-boy belly but its kind of adorable in its own way. I'm not about to let a doctor attempt to reshape me in their image. Still day in day out, recession or not, I watch women throw down thousands of dollars for smaller, prettier, better, perkier, bigger. If it works for you, fabulous. On the other hand, here are some images that may encourage you to pause before proceeding.
Can you match these stars to their over-injected big lips?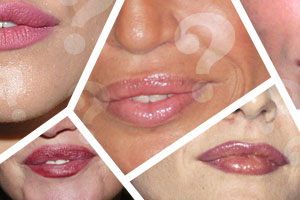 Got a few minutes to kill? See if you can identify these plastic surgery offenders by their big lips alone.